As the demand on public and private hospitals is growing, the need to streamline clinical workflows is paramount. Medical-Objects can improve your workflow with fast electronic software solutions that are more efficient and economical than traditional methods such as fax. Our software is automated, and all correspondence is securely encrypted and received in real-time.
The Medical-Objects Hospital Edition can be used to send and receive clinical correspondence securely in real-time. Our messaging software solution is highly configurable and can setup to easily work with your existing workflow. Additionally, Medical-Objects offers several different solutions depending on your needs. For example, our software can be used to receive incoming clinical correspondence like GP referrals, letters and results.
Help Desk Support
We are dedicated to providing 5 star rated unlimited helpdesk support for referrers. Our free support includes training, remote installations, unlimited receiving, and technical assistance during business hours. See over 5,000 of the latest reviews from our customers here.

Free for Referrers
Medical-Objects is completely free for your referrers to receive your reports. Let us handle the installation, configuration and ongoing support of your referrer practices.
Auditing
At the click of a button, you can instantly track all correspondence sent or received via the Medical-Objects Delivery Report. The Delivery Report also allows you to view when reports and discharge summaries have been delivered and imported by the recipient's practice software.
Medical-Objects can also be set up to send directly from your hospital based EMR, or as a standalone solution for outgoing correspondence such as:
Admission & discharge summaries
Medication requests
Emergency department encounter notifications
Specialist department reports
Consolidated specialist outpatient reports for clinicians
Patient summaries & notes
PDF based reports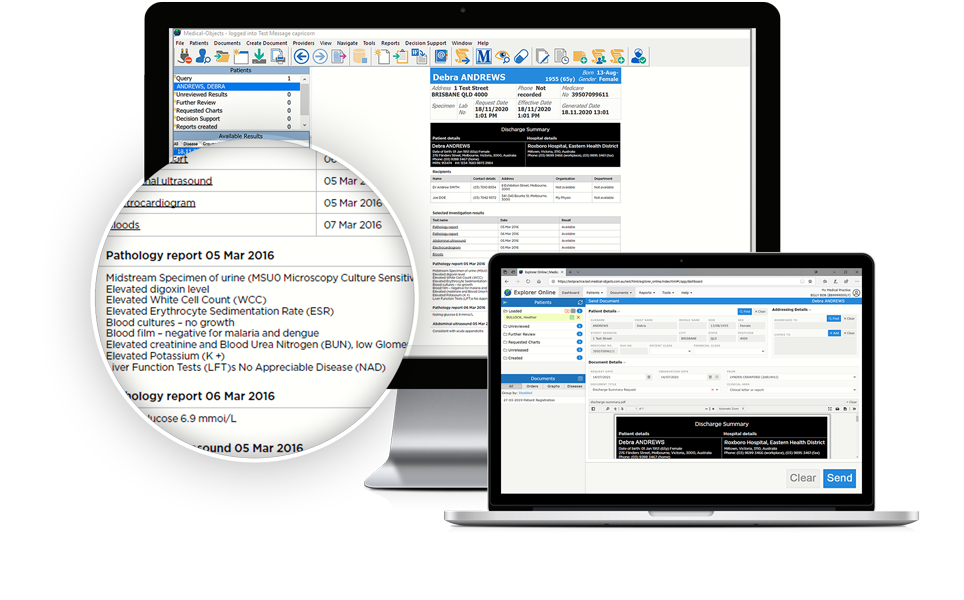 Integration
Medical-Objects can integrate with any hospital based EMR capable of producing or importing HL7 or PIT format reports. If your EMR is not compliant, Medical-Objects have our own solutions for the sending and receiving of patient correspondence and management of patient records.

Secure Real-Time Results
All results will be delivered securely in real-time, directly into your software or as a PDF document. When using Medical-Objects you can be assured that your results are safe. Not to mention the time saved when sent results are instantly delivered!
Patient Management (Optional Module)
The Hospital Explorer option acts as a Patient Management System. Reports processed are automatically allocated to the patient file and you are given the ability to add your own progress notes and similar documentation to the patient files.
The Online Results web portal is a simple but secure means of providing access to results for your mobile clinicians. The solution is accessed via a web browser and is also available on mobile devices and can be used to quickly and easily access private radiology and pathology tests
Online Results Screenshots