Specialists
Practice Software
For those without existing software, those who are
mobile
, or even those who have
multiple
sites
, our Practice Software has been designed to meet the needs of medical professionals.
Our Explorer software enables Specialists to send and receive correspondence in real-time. Alternatively, with our integrated HL7 secure messaging, you can also send letters straight from Microsoft Word using our Word Plug-in.
When you join the Medical-Objects network you are automatically added to our provider directory. Enjoy the marketing benefits of being promoted to over 80,000 health professionals.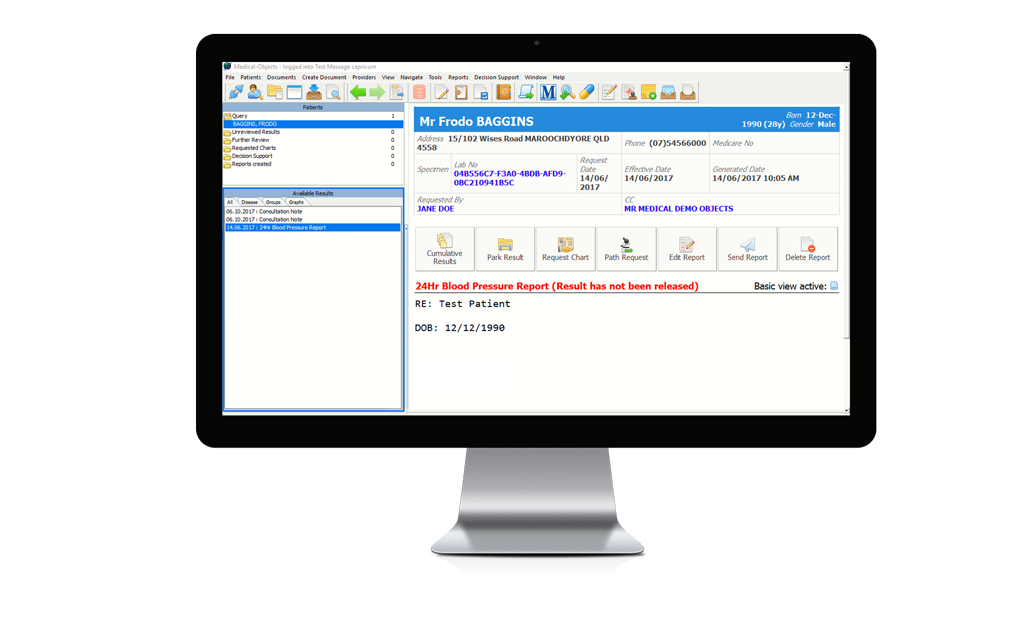 Explorer is a messaging, filing and a word processing system all rolled into one. Explorer has the capability to send specialist letters using templates or simple text messages. You can also send PDFs for complex charts and diagrams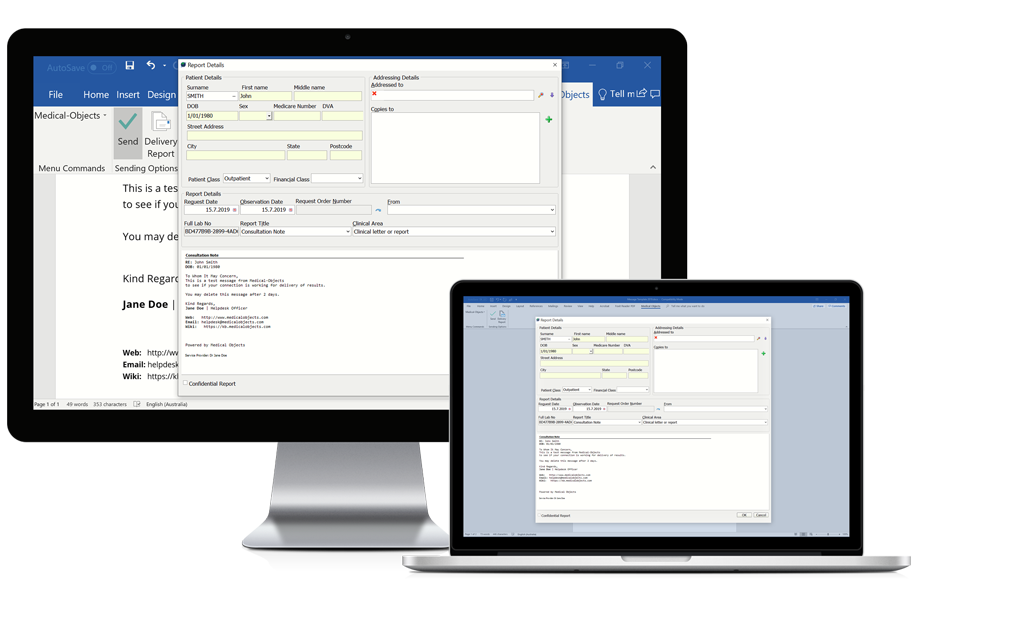 The Medical-Objects Word Plug-in is an add-on for your Word processing software, such as Microsoft Word. The Plug-in allows you to send letters directly from Word and most consultation letters can be sent with just a few clicks. All results are delivered in real-time, which means super-fast delivery.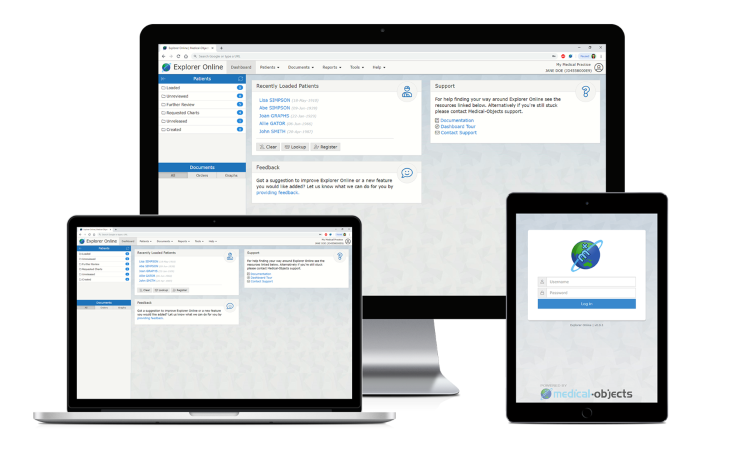 Medical-Objects Explorer Online is a web-based application that makes creating and managing clinical correspondence a breeze, with the ability to seamlessly receive and send clinical correspondence from your personal desktop, laptop or tablet.
Patient & Report Management
You can manage all your patients and their reports from progress notes to incoming and outgoing clinical correspondence.
Send PDFs
You can also send PDF documents to recipients in seconds. This is ideal for reports containing graphs, charts and diagrams.
Auditing
At the click of a button, you can instantly track all correspondence sent or received via the Medical-Objects Activity Report.
Edit and Release
Our Explorer Desktop Version allows you to edit and release letters that have been typed and pre-addressed by a receptionist or off-site typist. Sending can be performed by the Specialist with a single click of a button.
Security
All results and letters are protected with high level encryption and security. When using Medical-Objects you can be assured that your results are safe.
Advanced View
Easily view abnormal and cumulative results at a glance. Our customised graphing tools will assist with analysing your test results.
Send Reports
Our solution allows you to send reports straight from Explorer, or directly from Microsoft Word using our Word Plug-in.
Explorer Online (Optional Module)
Access web-based Explorer features for mobile users on the go with Explorer Online. Explorer Online also allows access to view the national My Health Record.

Patient Questionnaires (Premium Module)
Our PROMs solution cuts waiting room times, by allowing patients to complete questionnaires on a tablet that can be sent directly to Explorer Online or compatible practice software. Read More
Secure Hosting & Backup
All data is backed up and stored on our private servers in an industry leading Data Centre in Australia, enabling your practice to work from multiple sites and remote locations.
My Health Record in Explorer Desktop
Explorer Desktop now allows access to view the national My Health Record, making it easier and faster for specialists to view patient records and access its benefits.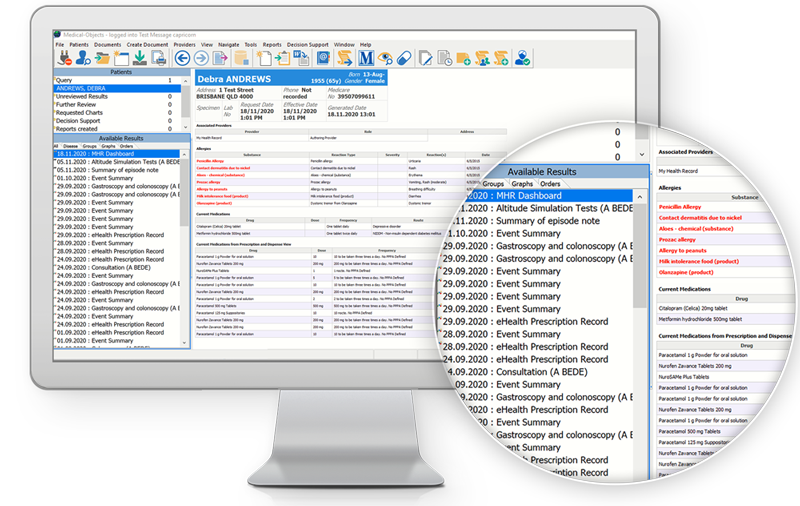 Integration
Once a patient's demographics have been verified in Explorer Desktop, health professionals are able to access their My Health Record, which includes documentation such as:
• Shared Health Summaries
• Specialist Letters
• Event Summaries
• Medicines View
• Prescription and Dispense View
• Pathology and Diagnostic Imaging Views
Uploading to My Health Record
The Explorer Desktop also allows clinicians to seamlessly upload specialist letters, prescriptions and event summaries directly to My Health Record. This can be configured on a patient-by-patient basis to automatically upload documents depending on the patient's preference.
Frequently Asked Questions
What can I receive?
The Specialist Practice Software allows you to receive GP referrals, Specialist Reports, Pathology results, Radiology results, Hospital Discharge Summaries, Pharmacy reports, Allied Health Consultation letters, and more.
Can I send letters?
Yes, you can! You can send reports directly from our Explorer software. Alternatively, you can also send reports straight from Microsoft Word using our
Word Plug-in
.
Can I track my results and letters?
Yes, you certainly can! At the click of a button, you can see all results that were received or sent via a Delivery Report. No more lost faxes or letters! You will know the status of all results. How good is that!
Is it secure?
All results are protected with world class security solutions like PGP encryption, user authentication, and network security. When using Medical-Objects you get the best security and peace of mind.