Medical-Objects provide secure, real-time solutions for pathology labs in Australia and New Zealand. Our Gateway solution and optional Online Results web portal instantly delivers results to your referrers. Access pathology results directly from your mobile device via our web portal – ideal for referrers located in public and private hospitals.
Unlimited support and easy set-up.
Help Desk Support
We are dedicated to providing 5 star rated unlimited helpdesk support for referrers. Our helpdesk operates during business hours and is backed by our helpful and experienced support team.

Free for Referrers
Medical-Objects is completely free for your referrers to receive your reports. Let us handle the installation, configuration and ongoing support of your referrer practices.
Easy Transfer
Medical-Objects have a tried and tested approach to migrating from an existing messaging system to our solution.
Pathology Gateway Edition
The Gateway Edition is for labs that already have a LIS (Laboratory Information System) such as Kestral, Medipath, Auslab, or Delphic. Medical-Objects takes the HL7 or PIT reports created by LIS and delivers them directly into the referrer's software. Our solution is built on secure real-time technology, meaning your reports are sent instantly to the recipient within seconds.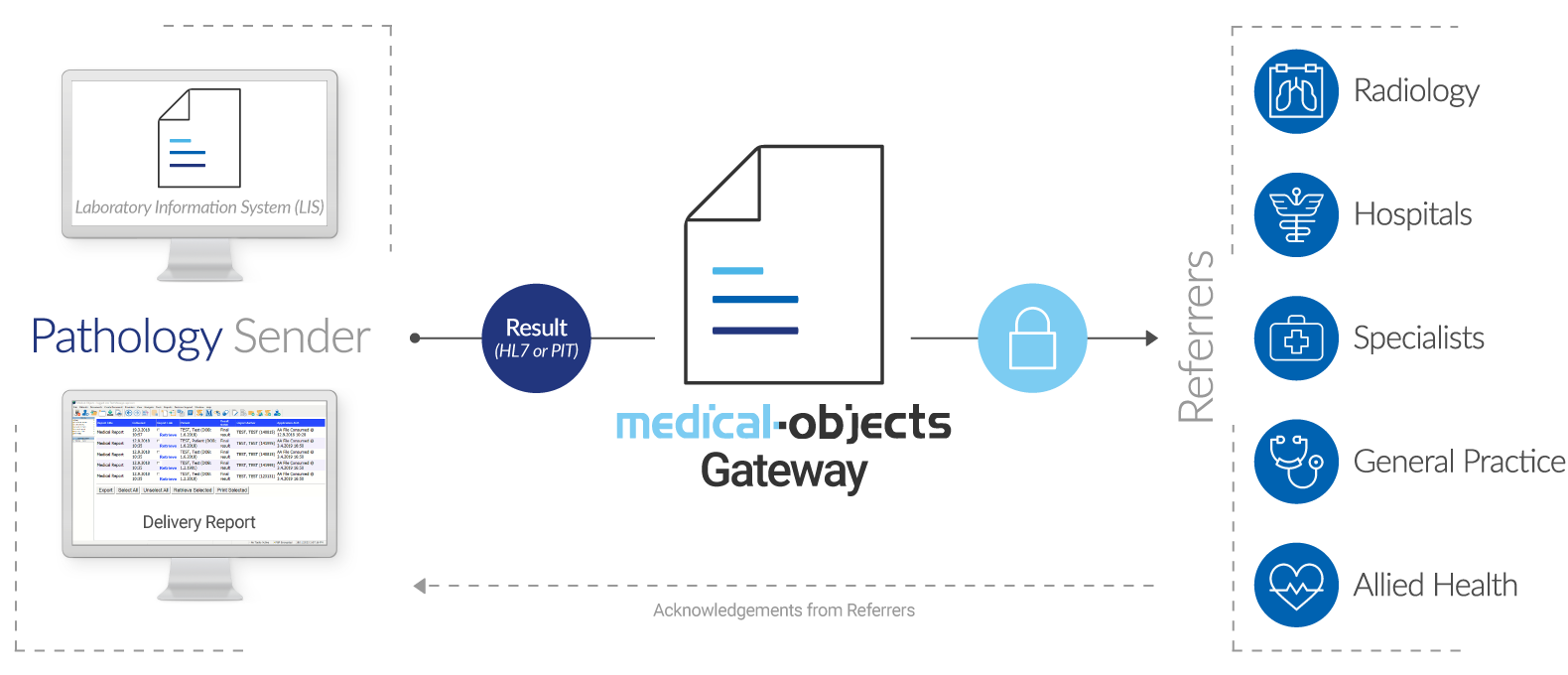 Secure hosting and LIS integration.
Secure Hosting and Backup
All data is backed up and stored on our private servers in an industry leading data centre in Australia, enabling your practice to work from multiple sites and remote locations.
Relay Client
The relay client facilitates the real-time transmission of results output by your Laboratory Information System (LIS) to over 101,500 connected health professionals.

LIS Integration
Medical-Objects have integrated with all of the major pathology information systems such as Kestral, Medipath, Auslab, Delphic and many more. Medical-Objects can integrate with any LIS interface capable of producing HL7 or PIT format reports.

The pathology Explorer is a useful desktop tool in addition to our Gateway Edition solution. Access and re-send previously sent results and track the status of all reports sent via the Explorer Delivery Report. The Delivery Report also allows you to view when reports have been delivered and imported by the recipient's practice software.

The Online Results web portal is a simple but secure means of providing access to results for your mobile referrers. The solution is accessed via a web browser and is also available on mobile devices and is therefore ideal for referrers located in private and public hospitals.
Online Results Screenshots